Welcome back, Roomful of Teeth
By Michelle Marrocco
Founded in 2009 by Brad Wells, Roomful of Teeth is a vocal project dedicated to mining the expressive potential of the human voice. Through study with masters from non-classical traditions the world over, the eight-voice ensemble continually expands its vocabulary of singing techniques and, through an ongoing commissioning project, invites today's brightest composers to create a repertoire without borders.
[from roomfulofteeth.org]
Since its inception (with the exception of last year), Grammy-winning Roomful of Teeth has come to MASS MoCA every summer to spend a few weeks away from the distractions of everyday life. During its stay here, Teeth (their abbreviation of choice) spends the first week of its residency working with coaches who specialize in two or three specific styles of singing. In the past, these styles have included Tuvan throat-singing, Inuit throat-singing, yodeling, belting, Korean P'ansuri, Georgian singing, Sardinian cantu a tenore, and pop-singing. This year Teeth is focusing on classical Persian singing with Sepidah Raissadat and the vocal techniques of Hindustani music, traditional music popular in northern India, with Warren Senders. I was lucky enough to sit in on one of these coaching sessions.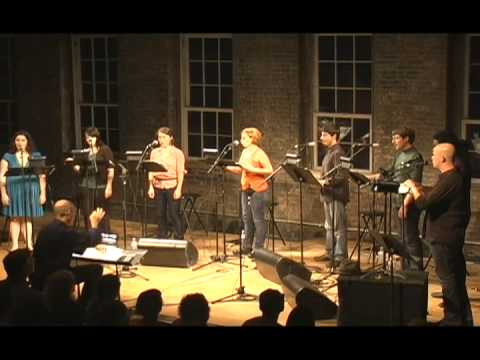 As Teeth members filter in to the rehearsal hall, it becomes obvious that this is a family reunion and MASS MoCA is Grandma's house. As vocalists tend to do, there are the obligatory lip trills and weird noises referred to as warm-ups, there's chatter around the snack table, and fussing over how big someone's baby has become (mind you, this baby is adorable and just as much a member of the group as anyone, as she coos along). Eventually all eight members of Roomful of Teeth, along with director Brad Wells, make their way to the circle of chairs in the center of the room. The level of comfort they all feel with each other and with this space is palpable: shoes are off, and smiles are abundant as everyone folds into their seats and prepare to sing.
I slowly realize that all attention is focused on one woman. She's petite with dark hair, reserved, and soft-spoken, but she commands attention. This is the last day of coaching sessions before the composers arrive on Tuesday, so Sepidah Raissadat answers some last-minute questions and imparts wisdom before launching an improvisation session. While Raissadat strums what looks like a small, four-stringed sitar (which upon further research, I discovered, is actually called a tanbur), Dashon Burton (bass-baritone) begins. As they move around the circle, everyone improvises while Raissadat echoes them on the tanbur and doles out advice for a more authentic Persian sound.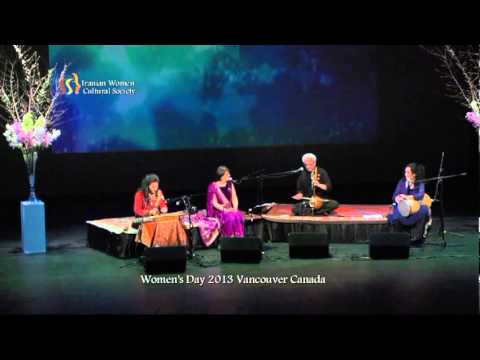 "I like how we sing and it's murky and then you play it back clearly," comments mezzo-soprano Virginia Warnken. "That's because I know the hierarchy of notes, so I know which ones to pass over," Raissadat replies in reference to the dastgah, the Persian modal system. The difficulty in teaching Persian music to western, classically trained singers lies not only in technique and scale, but also in communication. Just as languages with different alphabets do not easily translate, neither do musical traditions. During her coaching session, Raissadat struggled to explain, in terms of western music, how the pitch one sings differs when ascending as opposed to descending.  Eventually she resorts to teaching this idea the way she learned it: through imitation. Raissadat and Roomful of Teeth end the session by singing a song they learned together the day before. In a style of music characterized by trills, flips, and complicated vocal maneuvers, the texture created by multiple voices is uncommon and striking. As they sang, single voices wove in and out of the whole and created a texture that was charged by moments of perfect synchronization and moments of collective individualism.
After a half-hour break, during which Teeth chatted, wandered, and refueled, the group returned to tackle its final coaching session of this year's residency.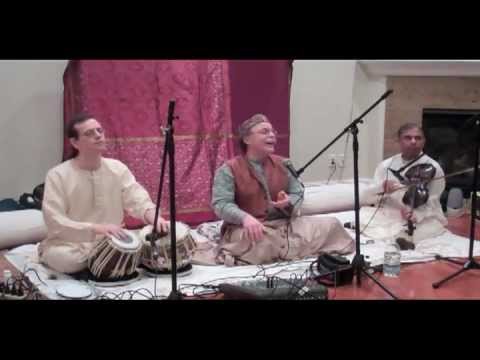 Raissadat has moved over a seat and been replaced by Warren Senders, a middle-aged man with salt and pepper hair poking out from beneath his hat, who immediately reaches over and turns on his drone machine in lieu of a sitar. Without much preamble, Senders spurs the Teeth into a call-and-response singing session; he sings a phrase or a line, and the Teeth echo him. It's immediately evident that some members are very comfortable with this style of learning, eyes closed as they succumb to the poignancy of the melodies they echo. As a performer, composer, and teacher of Hindustani music for over 30 years, Senders easily shifts back and forth between Western and Hindustani musical verbiage in a way that makes even the most unusual concept understandable . As he sings, he gestures with his hands to clarify the direction of the melody and interjects with advice. After an especially intimidating run, he clarifies by first breaking up the phrase, with hand gestures acting as guidance. "You'll come down with maximum twiddliness." Hindustani singing seems to be more fluid and less precise than the Persian music Teeth was learning earlier, but it is also characterized by embellishment.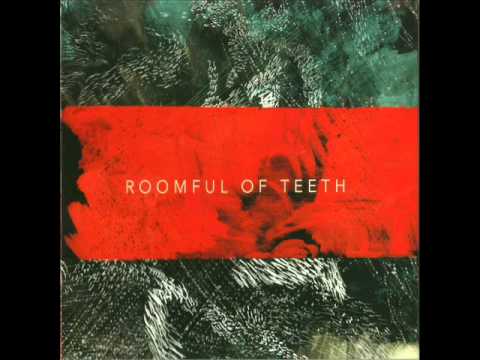 Again Teeth is called on to improvise solo. Using only his body language, Warren directs attention to one person, sings a phrase, and he or she echoes. I'm struck by this process and the response to it. Some members flourish, and some are nervous. (I'm reminded of times I was asked to sing solo in school choirs – it's a frightening experience!) Senders hears the fear and responds, "just make music." You can feel the tension dissipate. As the session continues, Senders pulls everyone in – "sometimes it's secret music" – and tells the story of the music they're studying. He has that kind of presence. He's a highly charismatic and revolutionary teacher, and he has a knack for pulling singers out of their comfort zone in a way that still feels safe.
For the second week of its residency, Roomful of Teeth will work with composers Michael Harrison (who has three decades of study and practice of Indian music under his belt), Julia Wolfe (who was here in July as a co-founder of Bang on a Can), and singer/songwriter Sam Amidon (who will be here again for FreshGrass in September), informing their compositions with Roomful of Teeth's new-found knowledge of Persian and Hindustani vocal technique. Be sure to catch Roomful of Teeth's performance in MASS MoCA's Courtyard C on Friday, August 29, at 8pm!
Digg | Del.icio.us | Technorati | Blinklist | Furl | reddit