Raise Your Voice With Sweet Honey In The Rock
Sweet Honey In The Rock, an innovative presence in the music culture of Washington D.C. and communities of conscience across the globe, brings songs of hope, love, peace, and resistance to MASS MoCA on Saturday, July 7 at 8 PM.
Founded by Bernice Johnson Reagon, Mie, Carol Maillard, and Louise Robinson in 1973 at the D.C. Black Repertory Theater Company, Sweet Honey In The Rock captures the complex sounds of blues, spirituals, traditional gospel hymns, rap, reggae, African chants, hip hop, ancient lullabies, and jazz improvisation.  "With honey from the rock I will satisfy you" (Psalm 81:16), and Sweet Honey's music does just that. These African American women are the perfect blend of sweet and strong. Each song reflects their passion for music, their dedication to the Black church, and their involvement in the civil rights movement and struggle for justice. Fort Worth Star Telegram calls Sweet Honey "the gold standard…their voices are all fabulous, and they unite to create a sound so pure, smooth and homogenous that it does not seem humanly possible."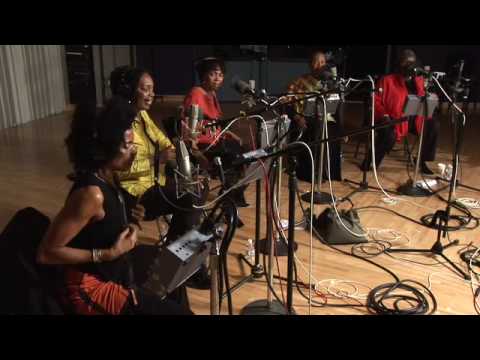 Sweet Honey's Mission
Sweet Honey's soulful harmonies and intricate rhythms encourage audiences of all ages to open their minds and hearts and think about how they treat each other and the environment in which they live. Harry Belafonte says "art is the conscience of the human soul and artists have the responsibility not only to show life as it is but to show life as it should be." These women feel empowered to raise their voices against prejudice, and to encourage others to make the world a better place by fighting for equality.
About the Members
Aisha Kahlil joined Sweet Honey in 1981, bringing to the group power and an unparalleled range in jazz, blues, traditional, and contemporary African vocal techniques. In 1994 she was awarded the title of "Best Soloist" from the Contemporary A Cappella Society of America after the release of See See Rider and Fulani Chant. In 2005, Kahlil was a finalist with her own band, MyKa and the whole World Band, in the annual Battle of the Bands contest, and was a winner in the International Songwriting Competition performance category with her original song, The Jewel Light. She is a co-director of First World Productions, a cultural and educational performance arts organization, and with Sweet Honey member Nitanju Bolade Casel, she wrote the production Bright Moments in Great Black Music. 
Shirley Childress Saxton is a professional Sign Language interpreter who has become an exemplar for interpreting music through Sign. In honor of her deaf parents, Saxton founded the Herbert and Thomasina Childress Scholarship Fund to reach out to other children of deaf adults. She interpreted with the Mental Health Program for the Deaf at St. Elizabeth's Hospital and with Project Access of Deafpride, Inc. She founded the organization BRIDGES to connect with Black deaf consumers and interpreters, and she was a founding member of Black Deaf Advocates. Saxton has received awards from deaf advocacy organizations, Deafpride, Inc., Women Unlimited, and National R.I.D Interpreters of Color.
Ysaye M. Barnwell is a Speech Pathologist with a Ph.D. from University of Pittsburgh. She taught at the College of Dentistry for over 10 years, and in 1981 she earned a Master of Science in Public Health. Barnell joined Sweet Honey as a singer and Sign Language interpreter, and over the past two decades she has earned a significant reputation as a commissioned composer and arranger, author, master teacher, and choral clinician in African American cultural performance. She founded the workshop Building a Vocal Community – Singing In the African American Tradition, which employs an African world view, and African American history, values, cultural, and vocal traditions to work with and build community among singers and non-singers alike.
Sweet Honey NOW
Creative in their methods of fusing activism with music, Sweet Honey was honored to accept an invitation from President and Mrs. Barack Obama to give a concert at the White House on February 18, 2009, and in 2010 Sweet Honey released a single CD and video in response to Arizona Law SB-1070 and create a tribute concert called Remembering Nina, Odetta and Miriam Makeba (Our friend Nora Chipaumire will present a work-in-progress dance/theatre piece inspired by Miriam Makeba on August 25.)
Sweet Honey's 20th CD release, Experience…101, was nominated for a Grammy Award in 2008, and the women were asked to compose new material in celebration of the Alvin Ailey Dance Theater's 50th anniversary. Most recently, Sweet Honey received Honorary Doctor of Letters degrees from the Chicago Theological Seminary in Chicago. They are the most prestigious recognition by the CTS, and are presented to those whom the CTS believe have, in their work and in their lives, embodied the seminary's core value of "transformative leadership toward greater justice and mercy in church and society."
By Hannah Schiff
Digg | Del.icio.us | Technorati | Blinklist | Furl | reddit