Katherine Myers reflects on her 14-year relationship with MASS MoCA as the Director of Marketing and Public Relations.
Besides my 16-year marriage, 14 years is the longest I've stayed anywhere. These have been particularly milestone-filled years:  I've lost two parents and a lot of eyesight, gained a daughter and a legion of remarkable friends and colleagues, and witnessed more great art than anyone living in a town of less than 15K could possibly dream of.
Given that long history, it's a challenge to provide a "Top 10" List, but a recent plane trip offered me time for contemplation. Here's what I came up with, presented in no particular order.
1. Michael Oatman has popped up regularly over the last decade and a half.  I first met him when he was in Unnatural Science (2000) where his incredibly detailed installation schooled me in Vermont's scandalous history of eugenics. When I was introduced to his collages in Becoming Animal (2005), I was even more taken with him. His suspended Airstream trailer is an absolute marvel and he is a delightful person. Every institution should be so lucky to have an artist like Michael in their "stable."
2.  I love that MASS MoCA does some events that are pure camp, simultaneously high quality and totally over the top.  On this list: Tragedy (2011), our heavy metal BeeGees cover band who repeatedly told us "We love you North Adams City!" and Corn Mo and the Wau Wau Sisters (2005) which involved a trapeze, a sparkly jumpsuit, Meatloaf covers and Catholic school uniforms.  What a night.
3. Hotel Pool (2005) was produced by MASS MoCA but took place in the pool at the Williams Inn. It was a play and a water ballet with some shocking moments. Incredibly well-crafted and enjoyable.
4. It's probably no surprise that the shows I like best are the ones with the coolest stuff to see. Crowd pleasers are easiest to sell and, when attendance rises, everyone is happier. On my favorite shows list: Oh, Canada (2012), Unnatural Science (2000), Huang Yong Ping's retrospective (2006), Uncommon Denominator (2002), Becoming Animal (2005), and Cai Guo Qiang's exploding cars in Inopportune (2004).
5. Dean & Britta's 13 Most Beautiful… Songs for Andy Warhol's Screentests (2009): The films are completely mesmerizing on their own and Dean & Britta's score and live performance only served to enhance them.
6. Ann Hamilton's corpus (2003) taught me the magical power of an art installation.  My father-in-law passed away while Ann's falling paper was on view.  His death was not unexpected and he had lived a good, long life. When my husband called me that morning with the news, there was no reason to head home but a pause for reflection did seem appropriate. It was before the museum opened; I just started to wander in the galleries and, without thinking, found myself in corpus which was truly the ideal place to reflect on a loss and a life well-lived.
7. Anouk Van Dijk's Stau (2006) started with dancers emerging from underneath your seat. Then, somehow in the middle, you were standing and all the seats were gone and you were milling about in a pitch black theater when suddenly spots came up illuminating dancers, sometimes right in front of your nose.  The piece ended with dancers and audience writhing against the wall to a deafening percussive soundtrack. Sound crazy? It was, but it was also probably the most viscerally affecting performance I've ever experienced.
8. Of All the People in All the World (2007), which involved millions of grains of rice representing various population statistics arrayed in the Hunter Center, brought a 100% lovely group of British actors from Stan's Café to North Adams for a couple of weeks.  We get to know many wonderful artists but these Brits count among the most delightful. Coupled with the beautiful, clever, moving installation, it was an exceptional experience.
9. Material World (2011) made great use of MASS MoCA's strengths; the exhibit utilized our remarkable space to great effect from the Wade Kavanaugh and Steven Nguyen's paper forest to Tobias Putrih's illuminated fishing line, inspired by our local Hoosac Tunnel.  It was accessible, jaw-dropping, fun, and interesting for all ages.
10. Canadian singer Patrick Watson's performance this past summer (2012) was nothing short of magical.  At first, we were disappointed that the show was inside on a beautiful summer night. Yet, when we saw what he did with the lights, we were so glad that he had insisted on the darkness that only Club B-10 could provide at 8 PM on an evening in late June.
And one more for good measure…
11. Solid Sound Festival is really non-stop work for our staff. At the first Solid Sound (2010), the only music I actually listened to was the first three songs of the Mavis Staples set which included "The Weight." Bone-tired late in the day on Saturday, I enjoyed Mavis's performance from a special rooftop vantage point and received a much-needed spiritual boost (and sitting down for 15 minutes didn't hurt either).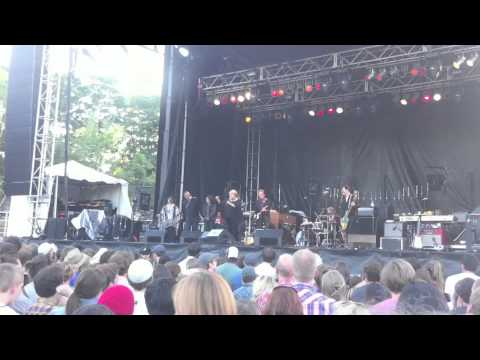 What did you like the best over the past 14 years?
Posted December 7, 2012 by MASS MoCA
Filed under BLOG, Dance, Exhibitions, Film+Live Music, Material World, Music, Oh Canada, Staff, Theater, Tragedy: The All Metal Tribute to the Bee Gees, Wilco Solid Sound Festival
Leave a comment »
Digg | Del.icio.us | Technorati | Blinklist | Furl | reddit