Inside Filthy Lucre
---
"I set out to recreate Whistler's fabled Peacock Room in a state of decadent demolition — a space collapsing in on itself, heavy with its own excess and tumultuous history. The once-extravagant interior is warped, ruptured, and in the process of being overtaken by natural phenomena: stalactites hang from the mantelpiece, light fixtures morph into crystal-like formations, and moss and barnacles cover the walls. Painted vessels sit broken and scattered, or drip florescent glazes down the latticed shelves. The shimmering central mural melts down the wall onto the floor in a puddle of gold.  The painting of the reigning 'Porcelain Princess' — depicted in fantastical deformity — oversees the unsettling scene."
 — Artist Darren Waterston on Filthy Lucre, which is now on view at MASS MoCA as part of Darren Waterston: Uncertain Beauty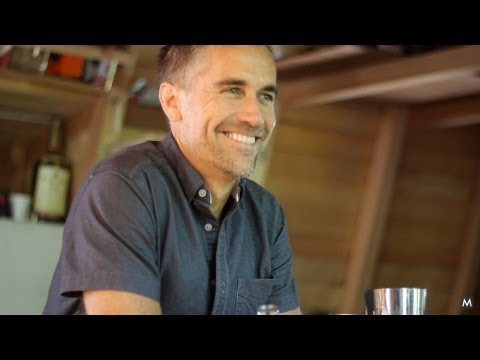 The original Peacock Room — the dining room for the London home of shipping magnate Frederick Leyland — was designed to showcase Leyland's collection of Asian ceramics. When asked to consult on the color scheme for the room, Whistler took bold — if not egregious — liberties while Leyland and his architect were away, and in a fit of enthusiasm painted the entire room — executing his now famous peacocks over the expensive leather wall panels. The collector refused to pay Whistler's full bill and banned him from the house; in response, Whistler painted an unflattering caricature of his patron titled The Gold Scab: Eruption in Frilthy Lucre (The Creditor) – now in the collection of the de Young Museum, San Francisco, California. Conflating the words frilly and filthy, Whistler made a jab at Leyland's own 'peacocking' as well as his miserliness.
Filthy Lucre hints at parallels between the excesses and inequities of the Gilded Age (and the European society it mimicked) and the social and economic disparities of our own time.  It raises questions about patronage and the relationships between artists, collectors, and institutions. Filthy Lucre is a reminder of the complexities and contradictions of the artist-patron relationship, as well as a reference to the relationship between art and money.
Inspired by Leyland's collection and that of American industrialist, Charles Freer, who acquired The Peacock Room after Leyland's death, Waterston has hand-painted 250 ceramic vessels (some found and some created by local ceramic artist Diane Sullivan) for his reinterpretation of the notorious room.
Waterston engaged local stained glass artisan Debra Coombs to create the luminous lanterns for Filthy Lucre.
Two galleries filled with nearly thirty of Waterston's paintings and works on paper, accompany the installation, including a selection of studies for Filthy Lucre.
See the installation process as our hard-working crew moves Filthy Lucre into the gallery in the above video, complete with a sample of the haunting voice and cello soundscape from New York rocker trio BETTY, who perform up in our Club B-10 on March 22.
"One of the most outstanding collaborative projects we've ever done with an artist here at MASS MoCA."– Richard Criddle, MASS MoCA Director of Art Fabrication,
Digg | Del.icio.us | Technorati | Blinklist | Furl | reddit